You've only got to look at Francis to know that he has his own Instagram feed. Francis is Welsh, he lives with Kimberley and Stephen and he's the biggest (and cutest) reason why Travfurler exists. Beneath his sturdy build and elegant sophistication lies a playful pupster who loves travelling as much as Kimberley and Stephen do. Francis is head of Research & Development, being principal Travfurler product tester. Francis likes to manage his energy. Sometimes he likes to laze around, sleeping so soundly we have to wake him up to make sure he's still breathing. Other times he'll lead a mountain hike. He can't use a map.

Francis likes: Every animal there ever was and is. Travelling. Networking, Yoga. Balls, all types.
Francis dislikes: Peanut butter. Early mornings. The Hoover. 

Favourite products:
Pet water bottle
Dog carrier
Dog car harness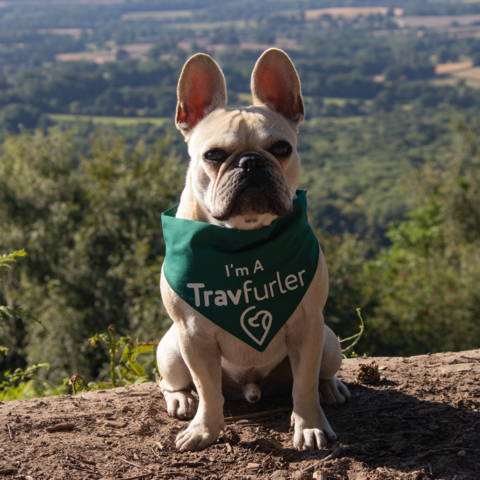 Kimberley is originally from Maidenhead, Berkshire and has lived with and loved animals all her life. She's owned cheeky fish, a naughty snake, some chirpy, clever birds, a slinky-gorgeous axolotl, some stupendous mice, a fussy horse, a fluffpot chinchilla….we could go on but we'd be here all day. The only thing stopping Kimberley from qualifying as a vet is the sad stuff. So, instead, she became Microsoft Apprentice of the Year (long story) and now is Travfurler's co-chief sourcer and creator of pet travel gear. Kimberley is Head of Operations, Marketing and Customer Services. She lives with Francis and Stephen by the seaside in Southampton, , Hampshire, UK.
Kimberley likes: Animals. Travel. Helping to cure cancer and Alzheimer's. Comfy trousers. Paddling in mountain streams. Software. Sunrises and sunsets. Finding quirky, pet-friendly spots.
Kimberley reads: Stuff about animals. If you're taking part in a quiz about animals, put Kimberley on your team.
Dislikes: Cruelty. Sloppy code.
Kimberley's ambition: To grow Travfurler so that she can a) help more people and animals enjoy the world together and b) create great jobs and training for people side-lined by society.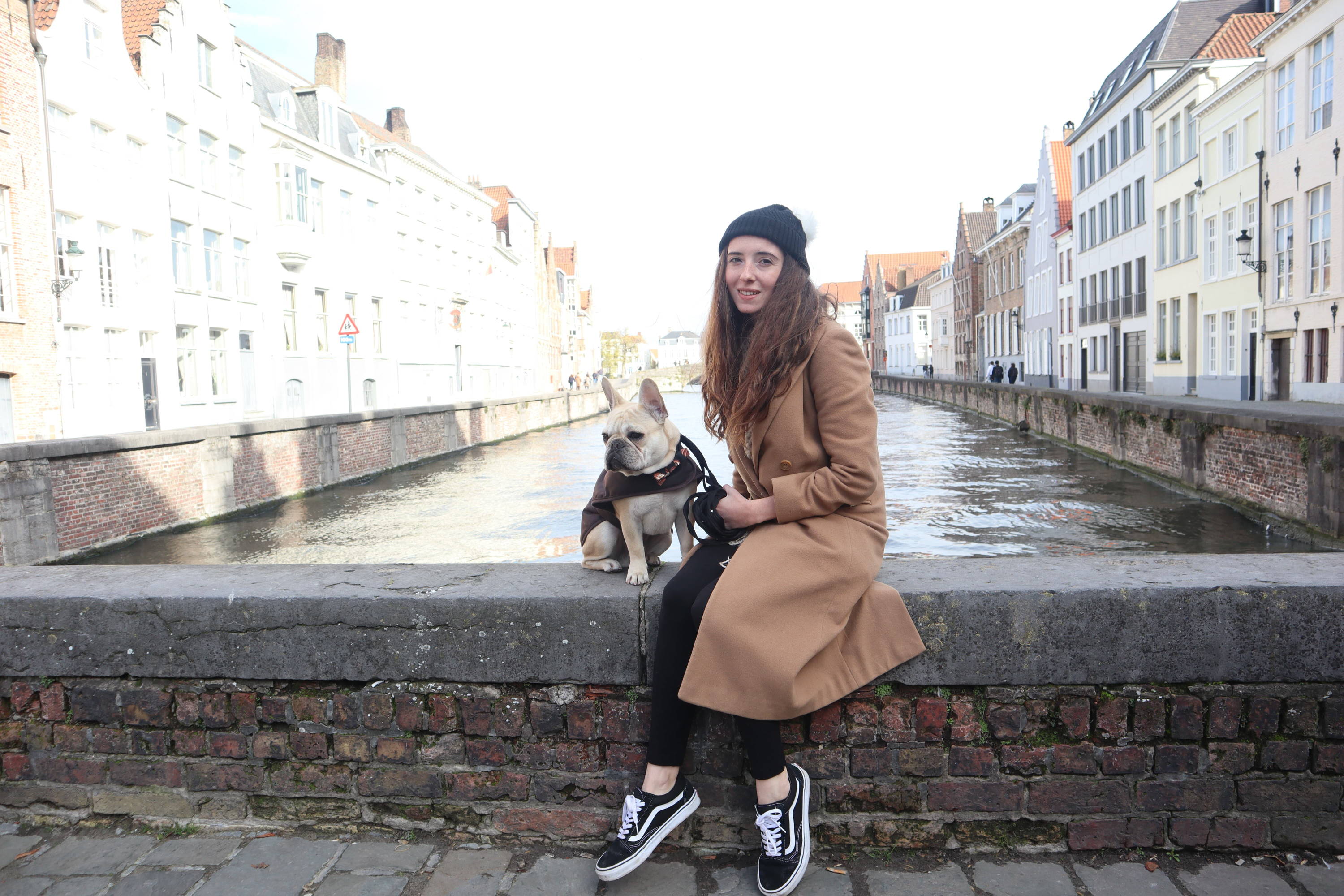 Stephen's background is software but he's a hardcore traveller from Yorkshire. The thought of setting off on another adventure to explore cities, castles, rivers and mountains makes him drool slightly more than Francis does. Stephen can be found travel vlogging or working with CRM software. Stephen is Head of Sales and Finance.
Likes: Travel. Animals (except tuna). Travel. Kim and Francis. Sunshine. Books. Cars. Did we mention travel?
Dislikes: Tuna and Traffic jams.
Reads: Cheery stuff like George Orwell
Ambition: To help other people and pets go on adventures together. To visit every country in Europe with Kim and Francis. He would also like to find a perfect work/life balance and offer the same possibilities as digital nomads to others through Travfurler.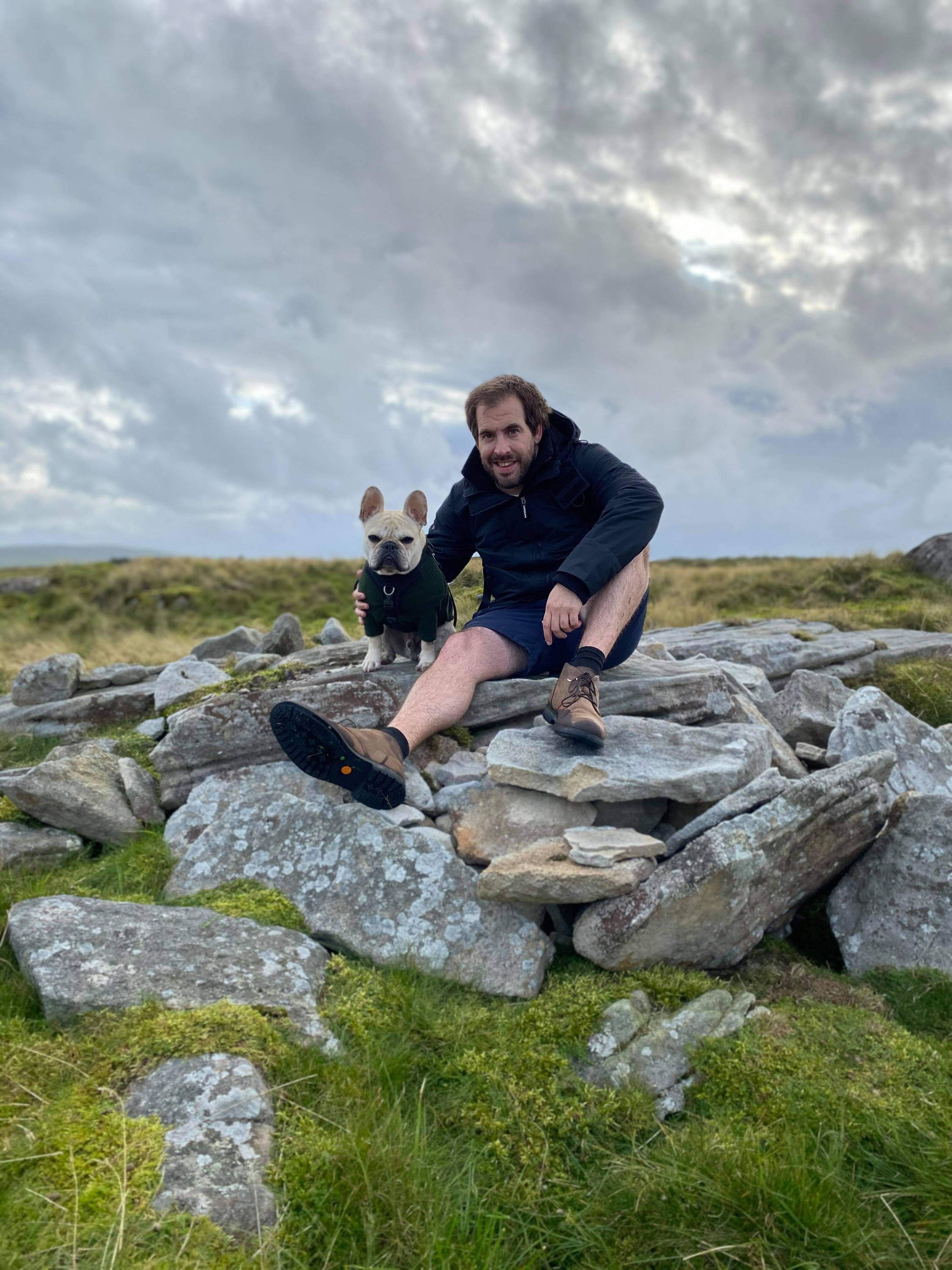 A career in teaching and a lifetime obsession with animals means that Kimberley's mum is dedicated to making sure that people learn to do pet things properly.  A globetrotting festival-goer, Kim's mum proved to us that joint pets'n'people adventures are totally doable, and we take our lead from her. She remembers fondly her unique parrot/gecko pet combination, and now lives with Harley the Labrador, who won't let her have a second dog, and moggies  Missy and Willow. When she's not planning her next festival, she's climbing mountains or giving blood to people who need it
Likes: Animals. Mountains. Gin. Festivals. Duvet days. Teaching. All kinds of music. Not Jazz. Drinking Guinness and the odd red wine with Stephen.
Dislikes: Bad grammar. Public speaking; Inequality.
Reads: 
anything crime thriller related. She apparently knows where to bury the bodies.
Ambition: To climb every mountain, with Harley as sherpa.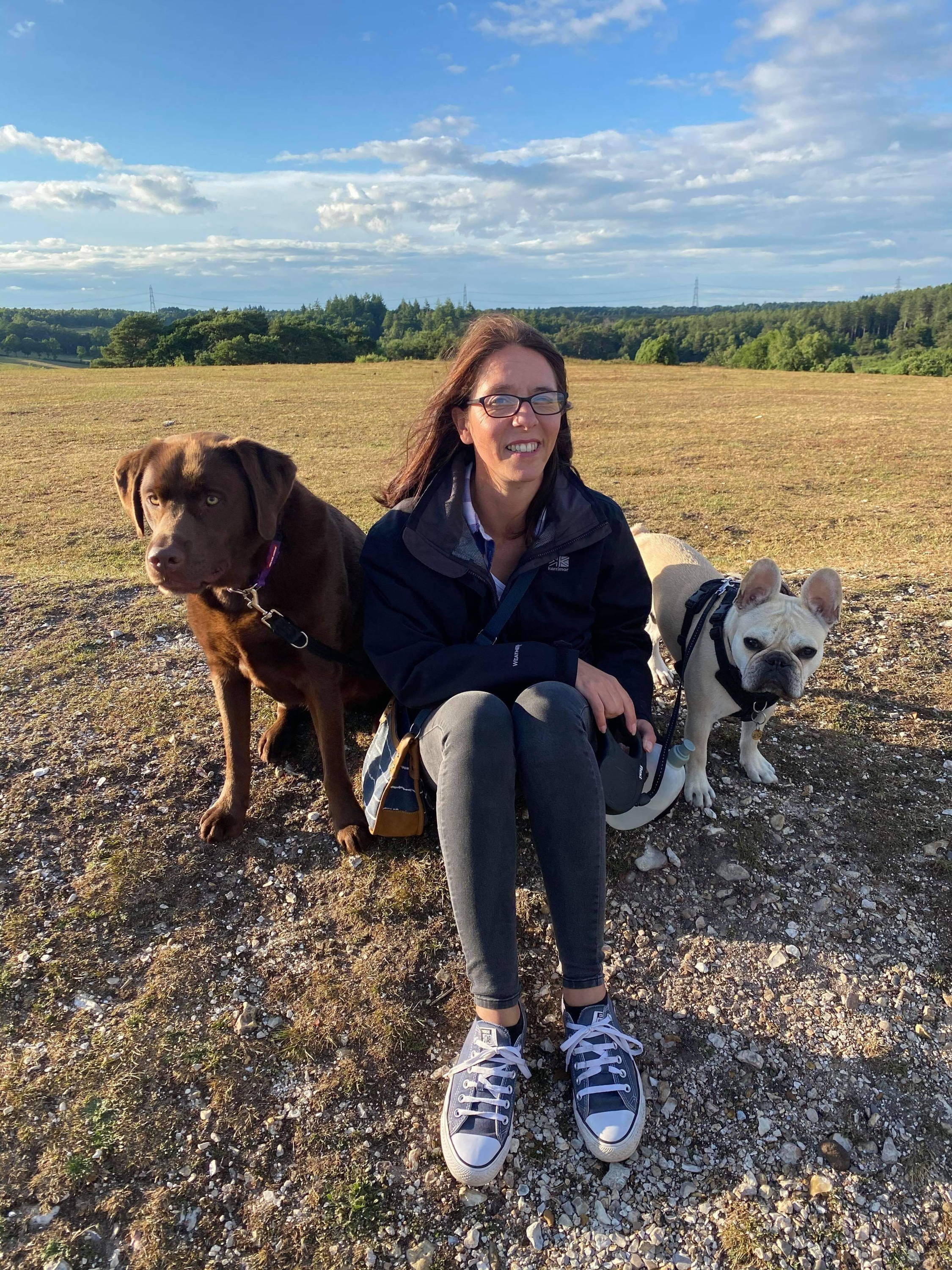 Harley the Labrador is very labradorian in terms of trying to eat anything that looks even remotely edible. He lives with Mum, Missy and WIllow in Maidenhead. His favourite things, after food and Mum, is to swim in water, the dirtier the better. He's our plus-size model for stylish pet wear. Harley is in charge of Quality Assurance. He crash tests all our products - if it can be broken, Harley will break it.
Harley likes: Food. Breaking things. Lazing on the sofa. Being in the car. Being outside the car. Life, generally.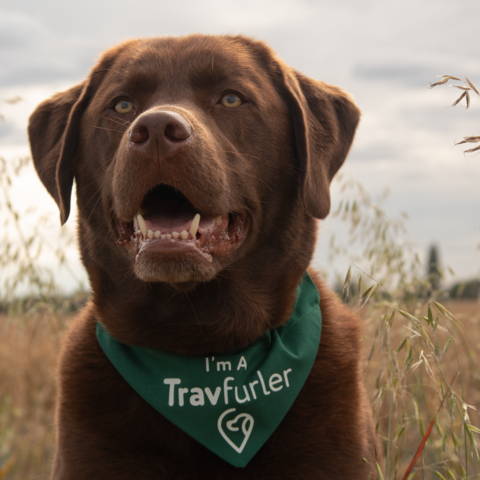 The resident demon cat. No really, for such a tiny cat she stores A WHOLE lot of hate - in a loving way. With so much personality, it's easy to forget she's a cat. Will always opt for sitting on top of the car instead of in it (when it's not moving, obviously). Not one to be left at home, mainly because she will follow you half way around the village meowing. Btw, her meow sounds like a bird - true fact. Not the most photogenic cat, let's call it resting b!tch face, but a poser nevertheless.
Loves: Getting her own way, arguing and being weighted on paw and foot.
Hates: everyone and everything.

Favourite products:
GPS cat tracker
Cat buoyancy aid
Cat ID tags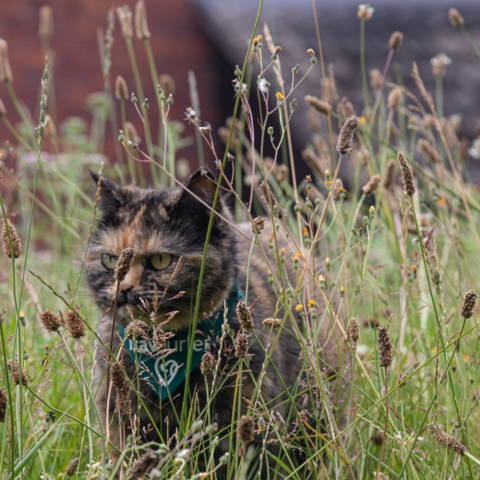 The chicken monster. Originally born on a farm eating chicken 3 times a day, he will do ANYTHING for a piece of your chicken. Very handy for adventures. Now growing old gracefully, he's opting for a calmer pace of life with more days at home then out. That being said, he's not one to miss a sunset.
Loves: CHICKEN, CHICKEN, CHICKEN, CHICKEN
Hates: Not getting your chicken

Cat calming kit
Cat bandana
Cat tick remover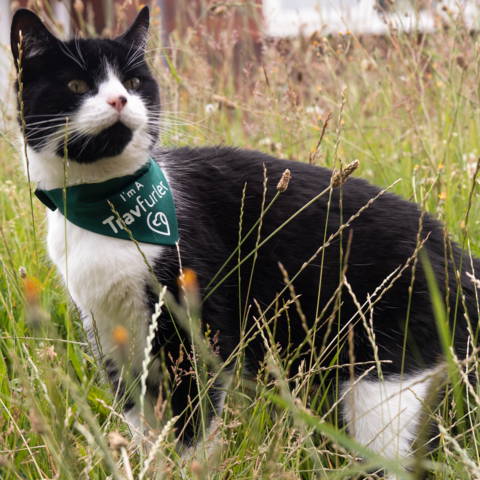 Kimberley's Nan kicked off the family pet-loving tradition, giving a loving home to everything from Great Danes to iguanas to Kim's mum. She's the ultimate warm, caring, decent human being, racking up hundreds of human and animal victims of her kindness over the years. She's Maidenhead's main source of a nice cuppa and, although she's still confused by technology, she's willing to give it a go. Because she's amazing at bringing people together, Kim's Nan is in charge of Team building. Fun fact: Kim's Nan has only ever been drunk once in her life. Once was enough. For everybody.
Likes: Animals. Proper home cooking. Walking. Sticky toffee pudding. Having a cuppa with Stephen.
Dislikes: a 
lack of manners, being cold and when Eddie rolls in fox poo.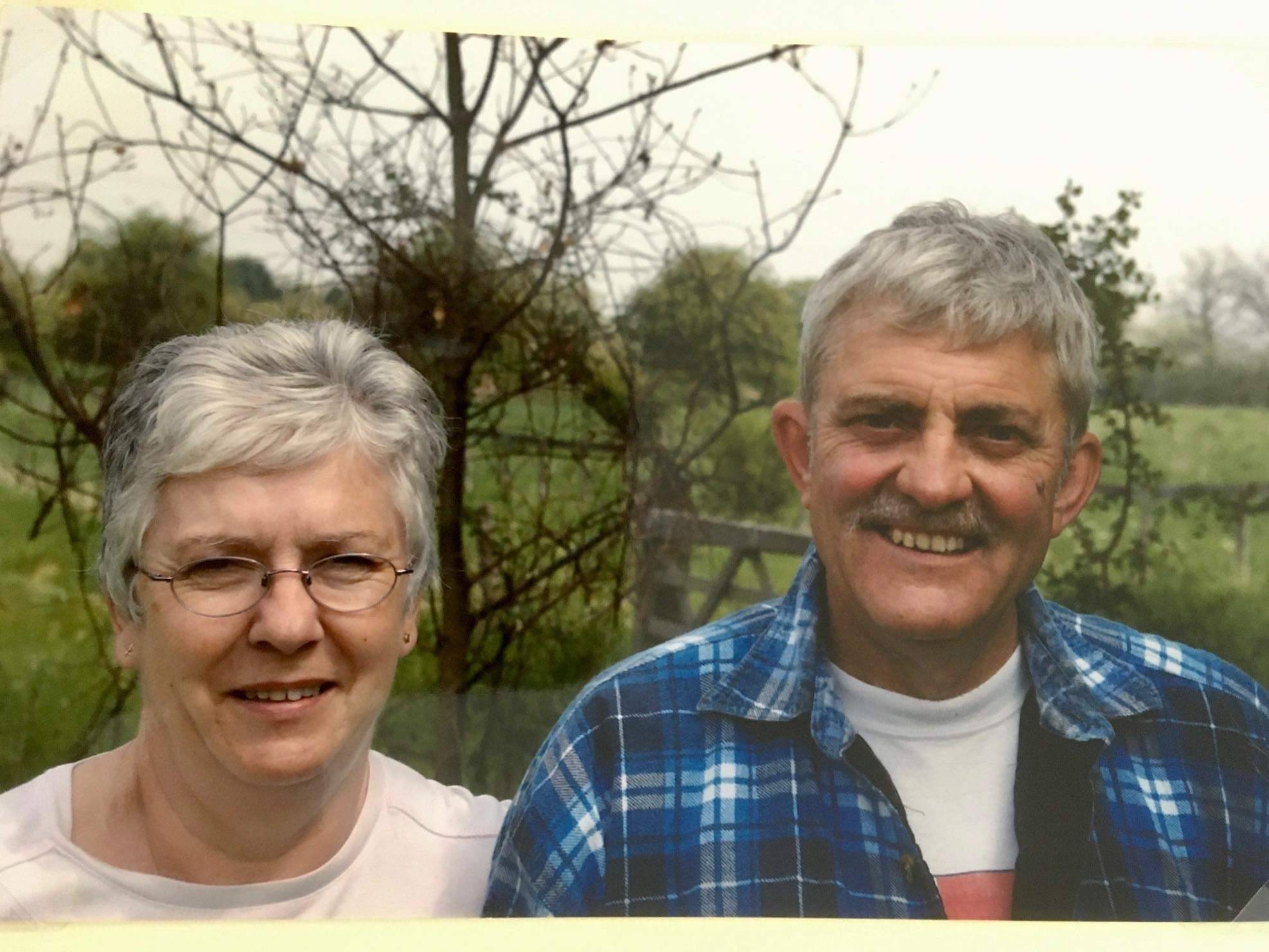 Eddie the Cocker Spaniel is an energetic whirlwind who sheds like the devil, rolls in appalling smells, pees on flowers and loves attention. His ambition seems to be to never, ever stop moving. Sometimes we wonder how we can take his batteries out. He lives with Kim's nan in Maidenhead. Eddie used to be a nervous traveller, but since he's used some of our pet travel remedies, he's a confident and cocky little Cocker who loves to visit new places and pee on new flowers. Eddie is in charge of nothing. It's not worth risking it.
Likes: Running; Jumping; Spinning; Yapping; Being alive; Bath time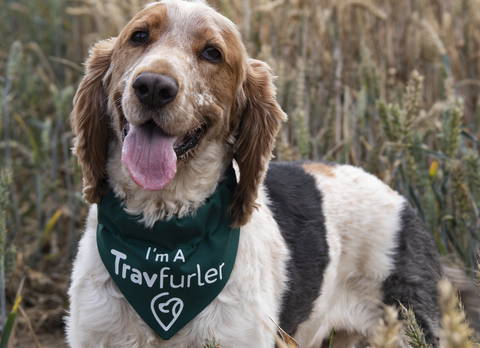 Stephens parents have years of experience and knowledge of the world, Graham, a retired international Operations Manager and Sue an NHS Nurse both fostered over 20 children in their lifetime. They have had many animals and many adventures and now enjoy helping their children and gran-children and take great care in looking after the lord of the manor 'Oscar the cat'. Stephen is always very grateful for all the assistance from the 'Non-Executive' Directors of the business -  Graham aka 'The Godfather' and Sue aka 'Miss Marple'.
Likes: Travel, finding a bargain, gardening and helping others. 
Dislikes: Too many calls from the kids.
Ambition: Already achieved over and over. 'To give people a better chance in life'. 
Oscar the cat is the lord of the manor whilst living with Graham and Sue. He likes nothing more than running away from Francis, lounging round in the garden and playing fetch with Graham. A man of mystery, Oscar keeps himself to himself unless you show him a little attention. 
Likes: Sleeping, having his own space, and Francis when he is not chasing him
Thank you for for meeting the team!